What's New
The following features and enhancements are available in CQG Integrated Client.
Mark Fisher Chart (MBF Chart)
Mark B. Fisher, founder and CEO of MBF Clearing Corp, is one of the industry's leading traders and technical analysts.
CQG is excited to offer, in conjunction with Mark Fisher, the MBF Chart. MBF Charts incorporate Renko-style bricks on a time chart to enhance the interpretation of Fisher's ACD trading methodology of price levels for trading and pivot ranges. The Fisher Bars display the total volume of each brick and the volume traded outside the brick during the same time period.
Watch Mark Fisher explain the new chart and how he uses it in this recorded webinar.
*Ask your sales representative about the MBF Chart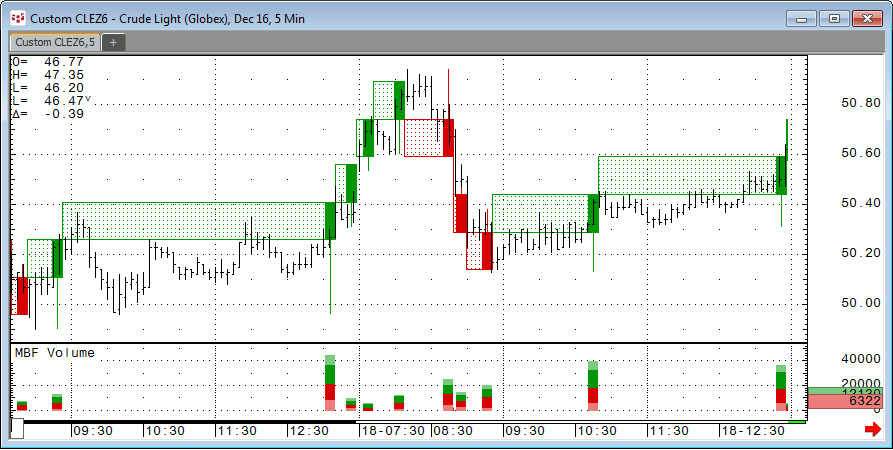 Footprint Charts and Studies
CQG has integrated Footprint® Charts and Studies into CQG Integrated Client and CQG QTrader, allowing customers to view the popular Footprint chart. The primary focus of this chart type is to organize and display the volume traded at each price and provide an indication of its impact on price. Five variations of the Footprint chart are available:
Delta
Bid x Ask
Volume
Profile
Imbalance
*Ask your sales representative about Footprint Charts and Studies
Alternative Data Sources
Tap into alternative data sources to leverage CQG IC's premier analysis and charting capabilities without paying twice for data.
*Included with your CQG subscription
Smart Orders in CQG IC Expanded
We offer a wide range of proven smart order types. Now you can also leverage our API to construct your own custom smart or algo order types and use them natively in CQG IC. Take advantage of our sample code base to create your own flavor of order to meet your trading needs. Find all the API documentation you need to get started. Learn more ‌‍‍‍‍​
*Included with your CQG subscription
Other Improvements in CQG Integrated Client
Charting Enhancements
External Data and Charting API - With our XData function, you can easily input any time series into CQG IC. You can chart it, put studies and conditions on it, and trigger orders with conditional alerts or automated trading strategies. Coming soon to the Charting API: use your .dll models as native studies with no need to build corresponding formulas in the formula builder. Review our API documentation for more information.
The option to export the chart data to Excel was added to the chart right-click menu.
The option to widen the price scale of charts was moved from miscellaneous chart preferences to the price scale right-click menu.
---
CQG Integrated Client: What's New Archive
---