CQG on Campus
---
CME Group Trading Challenge
CQG is a proud sponsor of the CME Group Trading Challenge. The CQG Integrated Client (CQG IC) trading platform will be used in the electronic trading team competition to execute trades on CME Globex.
CQG Integrated Client combines innovative electronic trading tools, global market data, and advanced analytics in one application for the professional trader.
Following are the resources CQG is offering the trading teams in order to prepare for the competition.
To learn more about the CME Group Trading Challenge, visit the CME Group web page.
---
Training Resources
Download CQG Integrated Client ‌‍‍‍‍
Videos
CQG has provided a series of training videos to help you get started with CQG IC:
For more training videos, visit the CQG Training Library ‌‍‍‍‍.
Presentations
Technical Analysis 101:
Tutorials
The tutorial pages are live, read-only pages within your CQG IC that can be saved to your active page list to help you create your own modifiable pages. To access:
Start CQG.
Click the Page button.
Select Tutorial.
Highlight the section best suited for your needs.
Click the desired page.
Visit CQG Workspaces to access samples, component pacs, add-ons, and more.
Support
How to Move from Trading Demo to Trading Simulator - A file decompressor, such as WinZip® , is required to open the demo.
More Information on Moving from Demo to Simulator:
With a trading interface open and active (either the Order Ticket or the DOMTrader®), click the Setup button and click Trading Preferences. On the left side, click Risk. Under Risk management for all symbols, there are fields for Maximum order size and Maximum position size. Both are set to a default of 0 or 1. If you attempt to place an order of more than one lot, it will display a warning. This protects you from accidentally changing the order size. The suggested sizes are 25 for the Maximum order size and 50 for the Maximum position size. Your actual position limits are controlled by the equity in your account and the CME Group margin requirements. The image below highlights the areas which need to be updated to prevent the warnings.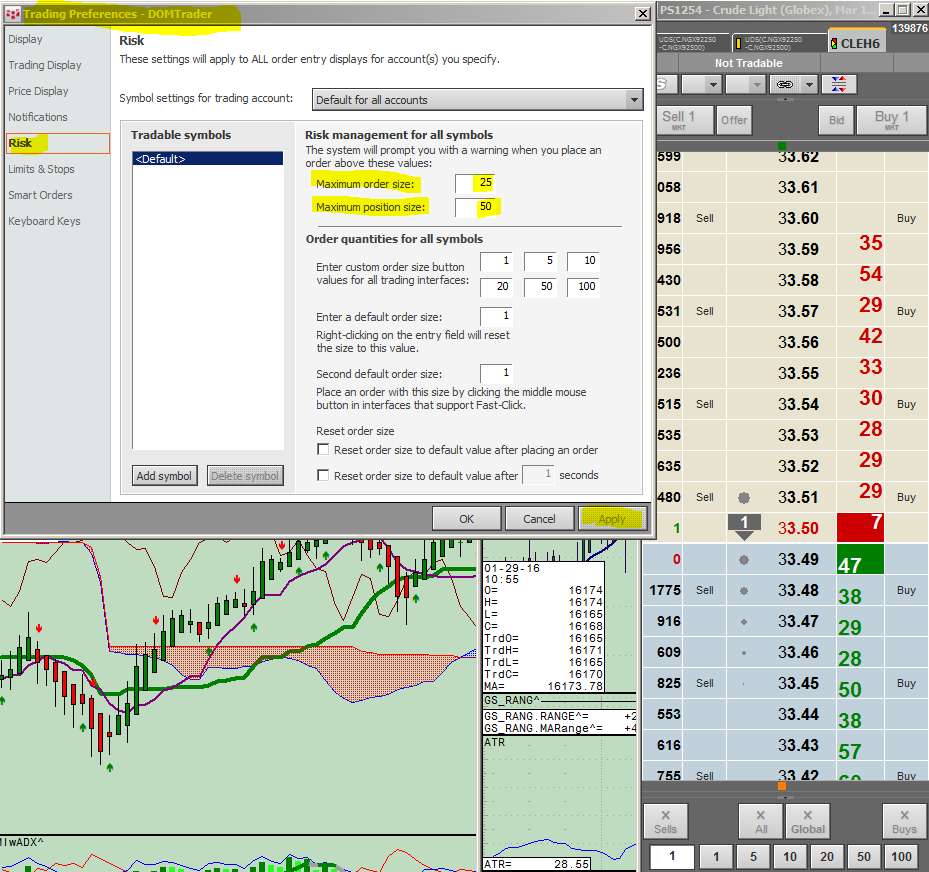 Preparing Your System for Live Trading - A tutorial on how get your system ready for live trading.
Follow #TradingChallenge17 ‌‍‍‍‍ on Twitter for the latest CME Group Trading Challenge news.