MiFID II Compliance
CQG's MiFID II compliance-related updates provide our partners with solutions to meet their requirements, as interpreted from MiFID II regulation. MiFID II enhancements are specifically for customers in the EU, those participating in EU markets, and those who use a MiFID II-regulated clearing firm.
Improvements for Fixed Income Traders
CQG has always serviced professional traders looking to trade fixed income products, both futures and cash. We have completed an overhaul of the underlying math to compute values such as conversion factor, CTD, and DV01.
This allows customers to trade in yield on CQG with accuracy and precision. Traders can also view charts in synthetic yield with accurate historical bars.
To meet the vast needs of fixed income traders, we continue to collaborate with new liquidity providers and market makers who push proprietary flow to select counterparties.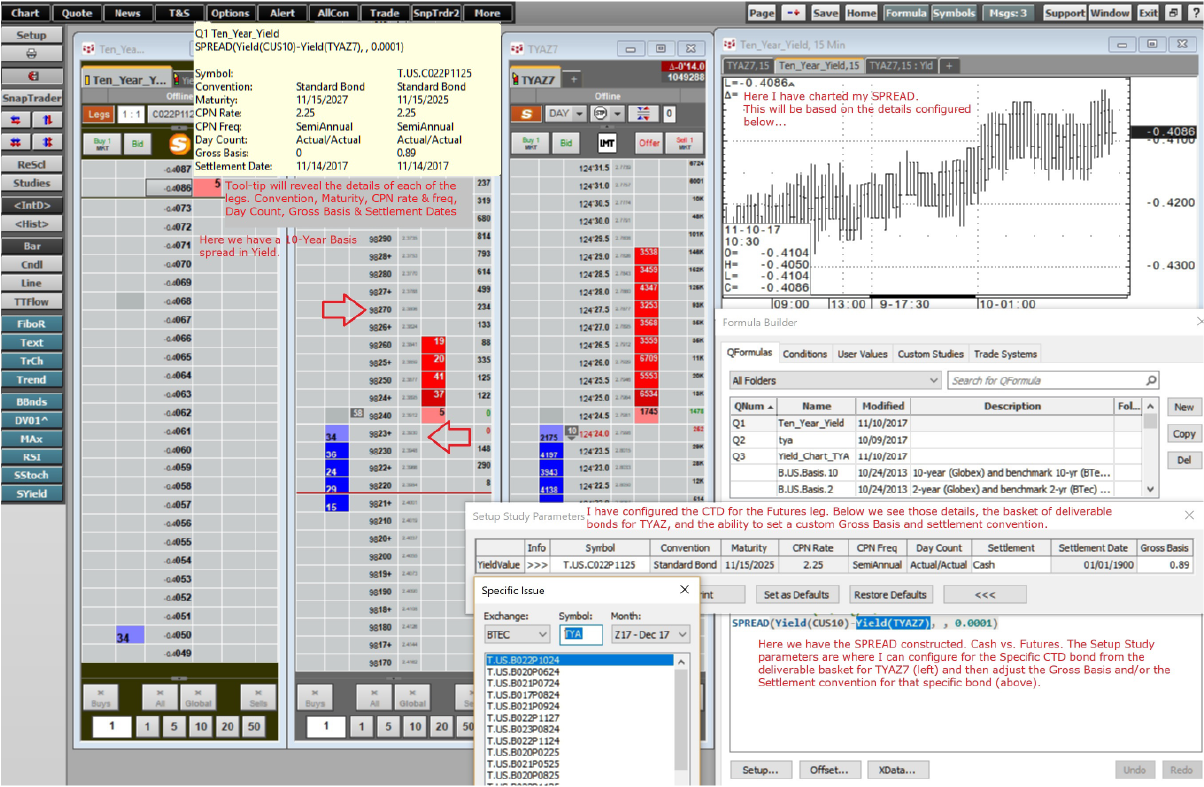 Algo Strategies
CQG has partnered with several brokers to integrate their popular algorithmic strategies into CQG IC and CQG QTrader: Wedbush, Quantitative Brokers, RCM-X, and BAML.
Leverage these strategies to enhance your trading without the need for custom development. Coupled with CQG's Algo Analytics, including TCA reports, you can try various strategies and measure performance for better execution.
*BAML algos are not multi-broker, they are for BAML customers only.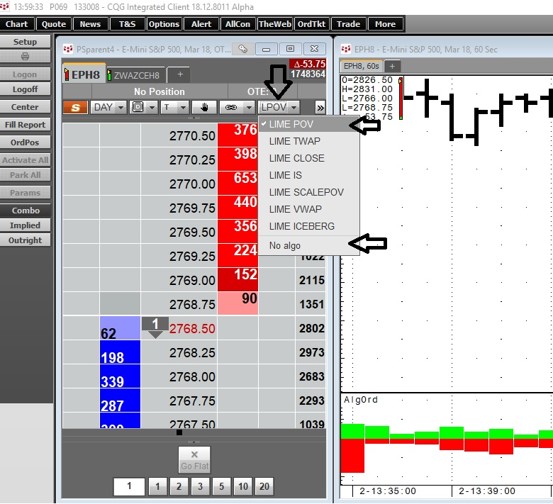 Dow Jones NewsPlus
​A customizable news site that empowers real-time decision-making is now available to all CQG Integrated Client Dow Jones News Subscribers. After your account is set up with Dow Jones, you can access Dow Jones​ NewsPlus via a button in the News toolbar or News drop down menu in CQG Integrated Client.

Hedge Management Using Care Orders
Hedge management has been made simple with care orders in CQG.
With centralized hedge management for brokers managing multiple customer accounts, care orders are a flexible way to manage customer trades within CQG:
Receive a customer order and hold as parked
Allocate portions of the order internally and report back fills
Assign fills from orders working at the exchange
Give your customers excellent service with better centralized hedge management from a single provider.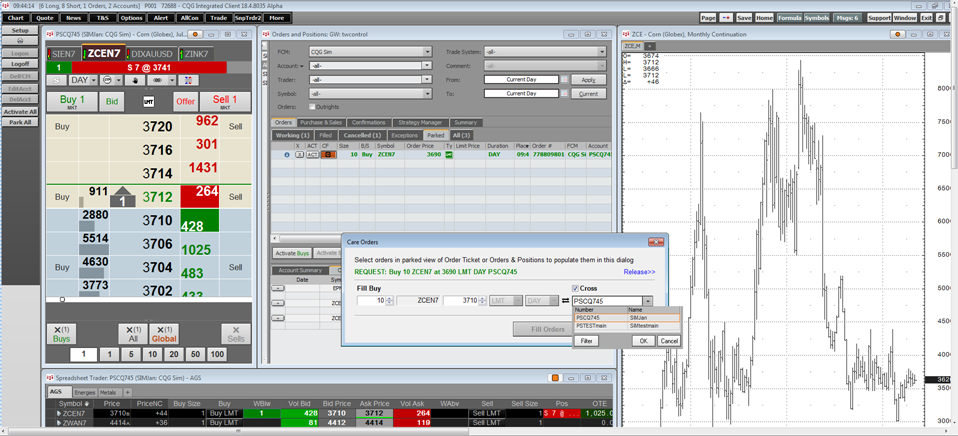 RFQ
CQG supports RFQ in CQG Integrated Client, CQG QTrader, and the Client APIs. RFQ functionality allows you to request a quote directly from participating exchanges to assess the market and manage risk prior to placing a trade.
API applications can benefit from decreased leg risk on potentially illiquid instruments and pursue the strategies prescribed by your model, unconstrained by the exchange-listed options markets.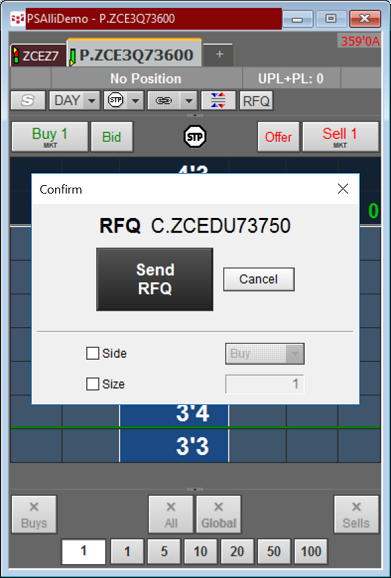 Net Change Chart
CQG's new Net Change chart offers analysis of daily volatility. With the chart, you can:
Combine multiple Net Change charts using Chart Analog Overlay to visualize movement
Change the price scale settings to the same scale for a comparison of like contracts
Adjust the color for each instrument for better visualization
Example: This chart shows how Net Change can be used to analyze one Treasury contract out-pacing another. This type of net change analysis may provide insight into buying or selling opportunities. In this example, there is a clear sell-off occurring in Treasury futures and the movement in the underlying instruments correlates with the Net Change chart of the FYT (ratio spread) moving higher.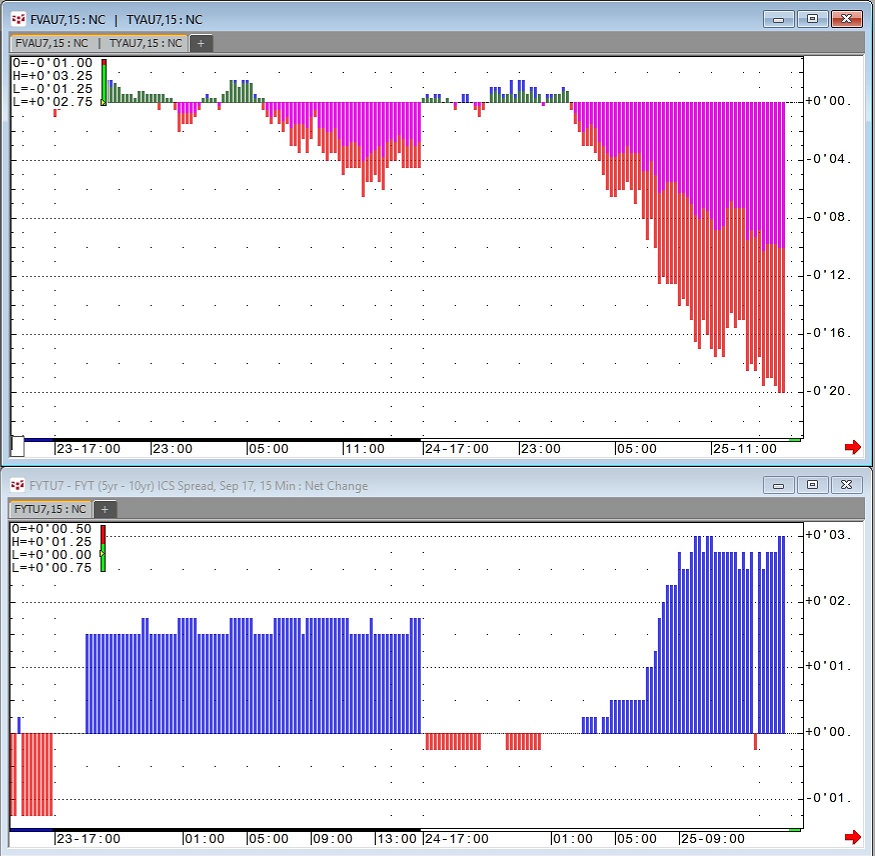 Batch Order Entry
In an effort to support our customers across all CQG products, we have added Batch Order Entry to CQG QTrader and CQG Integrated Client. Customers can create a list of orders in a plain text file and import the list to CQG to execute a large batch of orders all at once.
Enhanced Sorting and Filtering on Orders and Positions
CQG makes it easier to manage orders and positions for multiple accounts by customer account number or sales series. Use our Microsoft Excel® style filtering to search for an order number or portion of an order number using our smart search filter. Sort positions by account or filter by account/sales series to easily monitor your customers' positions.
For more information, view this quick video ‌‍‍‍‍
Modification of Parked Orders Prior to Activation
Easily modify your parked orders before activation without the need to cancel and replace them. Customers can modify the order quantity and price from the Parked tab on the Order Ticket or in the Orders and Positions window.

Enhancements for Fixed Income and Spread Trading
For fixed income traders who are trading spreads in yield based on gross basis and the conversion factor, we have added ConvFactor2 to our list of functions in QFormulas. ConvFactor2 used in a spread formula will compute an accurate yield value for the spread. Additionally, we have added the KCG Acknowledge exchange-listed spread symbols to the tradable products on CQG. For more information on KCG-listed instruments, visit https://www.virtu.com/market-making/customliq/vfi/.
---
CQG Integrated Client: What's New Archive
---