Solution: Market Data and Global Coverage
Global multi-asset coverage
High-speed, consolidated market data feeds deliver real-time and historical data
Ongoing innovation in data management and transmission enables us to deliver ever-increasing volumes of market data
Dedicated teams of specialists across the globe actively maintain data quality
End-Of-Day data from 22 exchanges is included
Solution: CQG Execution Technologies
CQG Algos: Trade optimally
Ever evolving technological advances in electronic trading present us with unique opportunities and distinct challenges. Capitalize on these and gain better control of your trading strategies with CQG Algos.
Your gateway to China
CQG's Shanghai Data Center provides fast, reliable connectivity for local and international customers with local connections to the five major futures exchanges for market data and trade routing:
CFFEX - China Financial Futures Exchange
DCE - Dalian Commodity Exchange
INE - Shanghai International Energy Exchange
SHFE - Shanghai Futures Exchange
ZCE - Zhengzhou Commodity Exchange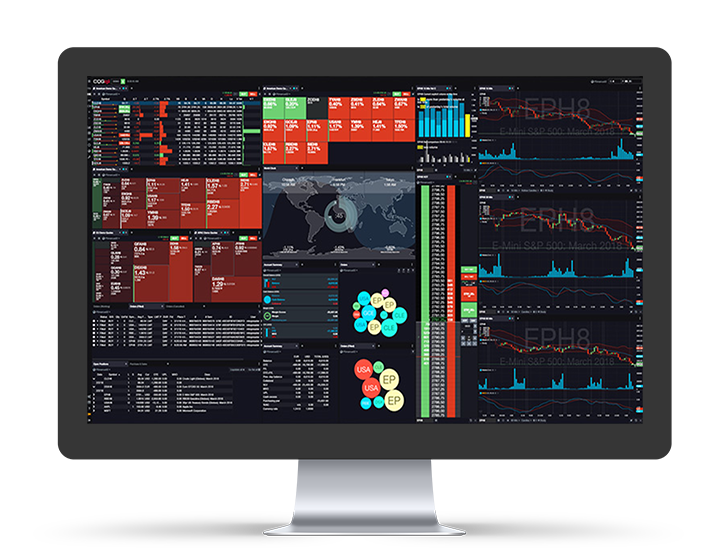 Solution: Trading
Meet your edge
CQG's rock-solid reliability and performance will give you the confidence to focus on the markets. Be at the forefront of traders with CQG's fully integrated trading and analytics.
Multi-broker, multi-asset DMA
Broad global coverage
Powerful trading with DOM views, server-side spreading, and smart order management
Algo order and auto-trading capabilities
Access all major markets through APIs
Route orders and manage trades through Microsoft Excel®
Solution: Internalization
Save costs and mitigate risk via internal matching
Order management to mitigate compliance risk by not sending crossed orders to the exchange
CQG's Matching Core internally matches orders before sending unmatched orders to the exchange
Automatically cancel working orders at the exchange when an internal match is received
Care orders functionality makes manual matching and time-delayed matching much easier
Solution: APIs
Embed the power of CQG into your platform
API integrations for market data and trade routing
Reduce cost of maintaining infrastructure
Leverage CQG's high-speed, global infrastructure
Single-connection point to data sources and tradable exchanges
---
Contact our solutions team for more information