Professional News for Professional Traders
We understand that traders prefer to spend most of their time and energy trading. In the hectic world of making money, there is little time to carefully sift through indistinguishable headlines. The headlines in CQG News are easy to view and read at a glance, helping traders make decisions more quickly and with better information. Our smooth, scrolling headlines are displayed with the most current headlines larger and the older ones smaller, simple but effective.
We now offer the Calendar of Events. This application is a live calendar of global economic and political news that move the markets, such as economic, treasury, energy, and political events. You can set up notifications that will alert you to a pending economic event.
CQG News
As a trader, there is no better way to stay in touch with the world than CQG News. After listening to our customers and observing how traders use the news, we have completely redesigned our interface to provide exactly what you need: usability, flexibility, and power.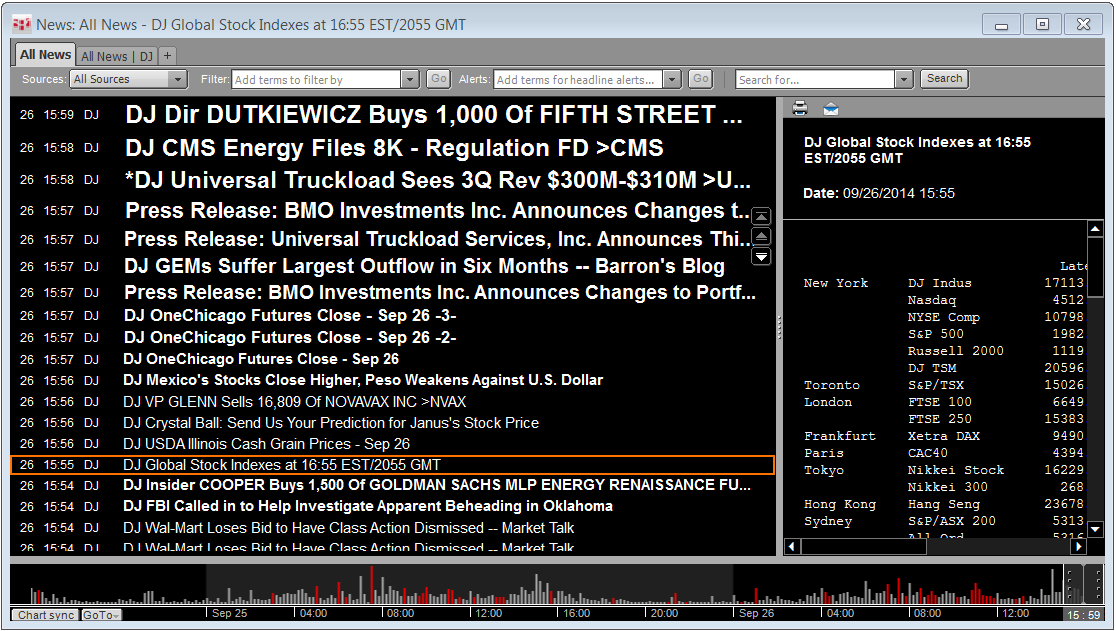 Customizable
Our three-pane layout reduces unwanted window clutter on traders' desktops, saving screen space and time. Our latest feature provides synchronization of news headlines with a chart in the CQG Integrated Client.
Innovative
We've eliminated the need to scroll through endless headlines to find important stories. Use our new and innovative timeline to navigate quickly and easily to a specific time of day, track the volume of news throughout the day, and monitor News Flash activity.
Streamlined
Avoid drowning in too much information. CQG News' powerful filtering, searching and sorting tools allow traders to see only those headlines relevant to them.
Calendar of Events
The Calendar of Events allows you to track economic releases with a concise calendar. It provides details for key global macroeconomic indicators, regional economic indicators, and events. Immediate updates occur as economic numbers are released.
Get real-time updates from Dow Jones, published and updated five days a week:
Corporate earnings for around 2,000 companies
Economic data for around 300 major events
Event details for more than 900 economic events from over 50 countries and 7,500 companies worldwide
Financial, political, and economic event data globally
National and financial market holidays
Event data for the upcoming three months with archive data rights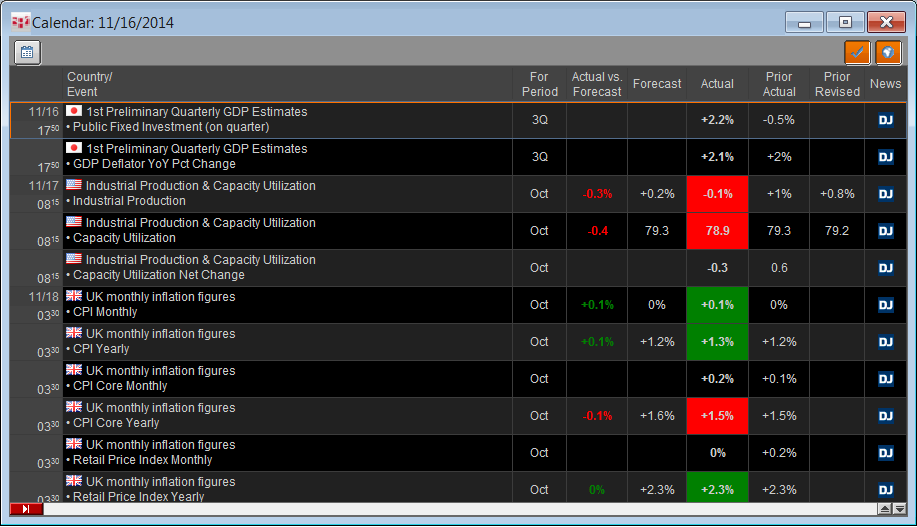 The Calendar of Events is linked to the CQG News interface. In the Calendar of Events, the Dow Jones icon at the end of the economic release row provides direct access to articles in CQG News, which offer more information and analysis from Dow Jones Newswire reporters.