News Services Available in CQG
For a trader, there is no better way to stay in touch with the world than CQG News. After listening to our customers and observing how traders use the news, we have completely redesigned our interface to provide exactly what you need: usability, flexibility, and power.
The following news services are available on the CQG platforms. You can get headlines for an overview of the news or complete information about a particular market.
Contact our solutions team for more information
---
Dow Jones News
Commodities Service Basic - An overview of real-time news that focuses on commodity cash and futures markets, providing technical analysis, commentary, and global weather reports.
Commodities Service - A comprehensive, real-time news service providing an overview of metals, softs, and agricultural commodities, supplemented by third-party reports and general news from the global markets.
Energy Service - Designed for energy market pros, this service covers all major market segments: electric power, crude oil, petroleum products, petrochemicals, and natural gas. Real-time news also includes market commentary and in-depth analysis.>
European Equities Spotlight - An extensive news service that offers real-time disclosure and reports of European companies, including blue chips, stock market commentaries, and index values.
Global FX & Fixed Income News - Delivers relevant, real-time, market-moving news and information on the currency, debt, and fixed income markets to help traders and investment managers build predictive, profitable trading and investment strategies.
Global Markets News - Delivers fast, comprehensive coverage to traders and analysts seeking the latest in global equities and industry news, including disclosure and corporate actions and coverage of 14,000 companies in North and South America, Europe, Asia, and other emerging markets.
News Service (North and South America only) - The most widely-distributed newswire for financial advisors and investment professionals, this service offers extensive coverage of the equities market.
Dow Jones Australia/New Zealand Report (Australia and New Zealand only) - Provides real-time business and financial news focused on the Australia and New Zealand markets.
Local Language Services - CQG offers the following languages for Dow Jones Newswires:

Dow Jones Bolsa (Portuguese)
Dow Jones Bourse Pro (French)
Dow Jones Forex (Russian)
Dow Jones Global (German)
Dow Jones Nieuwsdienst Professional (Dutch)
EFE Dow Jones Professional (Spanish)
MF Dow Jones Professional (Italian)

All Dow Jones News subscriptions include access to Dow Jones NewsPlus, a companion Dow Jones website that offers exclusive news highlights. A separate Dow Jones login is required. Request a login here.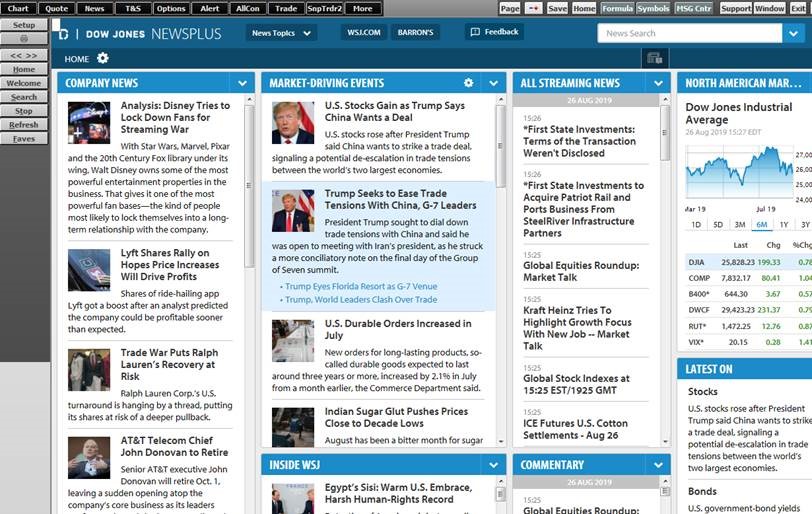 The Hightower Report
Daily, weekly, monthly, and annual market research, analysis, and forecasting services, including market commentaries and chart analysis.
Market News International
MNI Fixed Income Bullet Points - Original, authoritative commentary on the global fixed income markets presented in concise bullet point format.
MNI Foreign Exchange Bullet Points - Minute-by-minute reporting on major currency markets, economic indicators, and other market-moving news.
MNI Main Wire - News intelligence for global financial markets presented in a scrolling headline format.
The Hueber Report
The Hueber Report was founded in 2002 by ag industry veteran Dan Hueber, a celebrated analyst with over forty years of experience in the grain trade and ag advisory business.
In the CQG News display the "The Hueber Report Daily Comments" is a brief introduction to the latest daily comments and a link to the full article at The Hueber Report web site.
Report Service
Bullish Consensus®
Market Vane's tool for trading that shows the degree of market sentiment on a particular market. Insights into trader sentiment are based on the recommendations of leading trading advisors, depending on the percentage that are bullish or bearish.
CattleFax News
CattleFax is the global leader in industry research, analysis and information on the entire agricultural industry; providing comprehensive, accurate information. Not only does CattleFax know cattle and beef, CattleFax is a single source for market information in agriculture; including grains, energy, protein and trade.
CQG News carries CattleFax Fed Sales data by states, historical basis and end of day commentary.
---