Add-Ins for Excel
CQG's XLS Trader Add-In   
(32- and 64-Bit)
XLS Trader offers CQG Integrated Client customers the ability to route and manage orders directly from Microsoft Excel®. Now, you can create models within Excel that can be the basis for conditions to send, modify and cancel working orders. Excel connects to the Exchanges via CQG Trading API.
Features
Over 70 UDFs for placing and managing orders
Functions are triggered by a cell reference
Compatible with CQG RTD functions
The UDFs have Dialog boxes making building your order routing system a straightforward process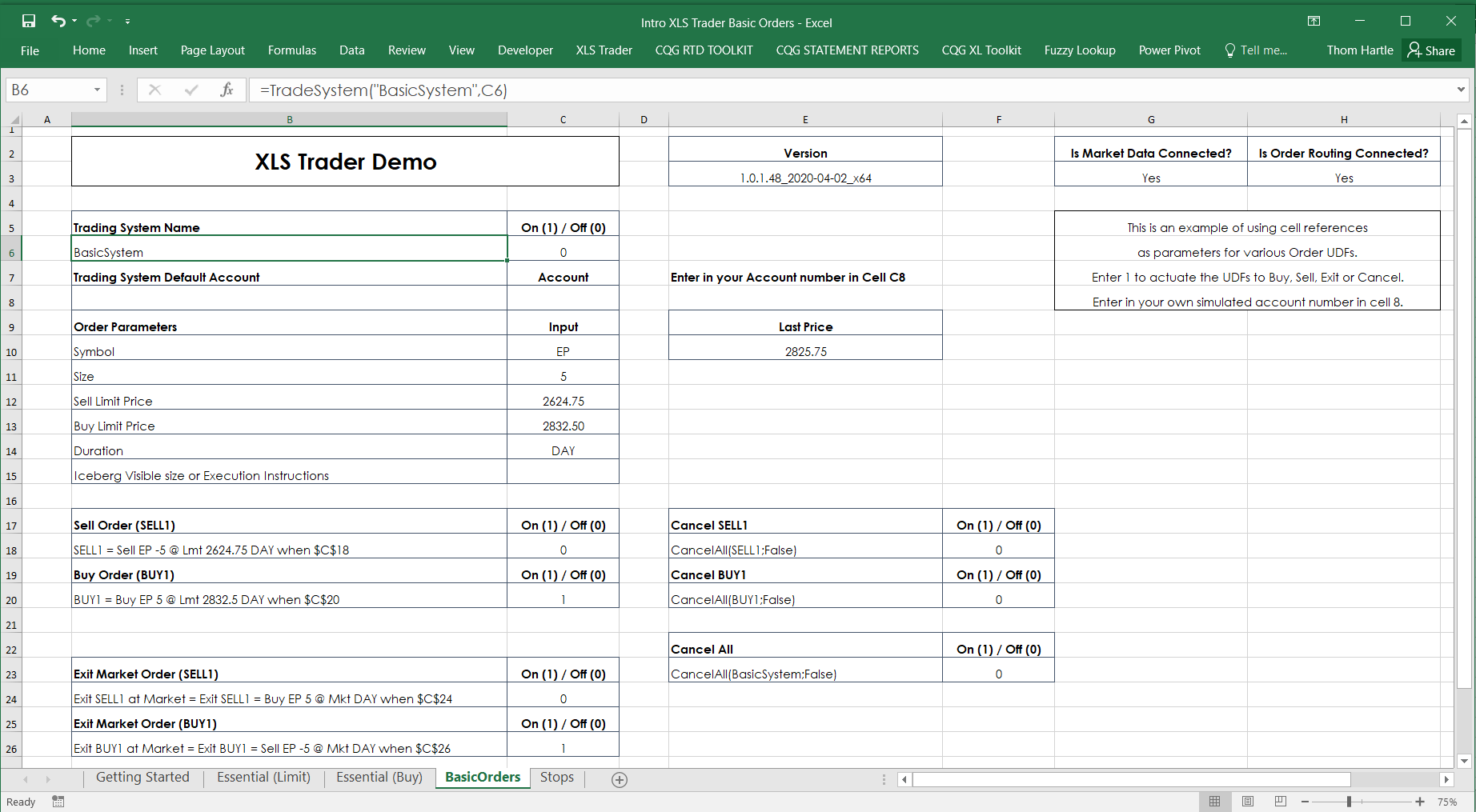 Requirements
Integrated Client enablements required: "XLS Trader", "Back Testing", and "CQG Trading" enablements via your salesperson (comes with the CQG Spreader enablement).
A recent version of CQG Integrated Client that includes the XLS Trader components (ask your salesperson for the download link).
Strongly recommended: Microsoft Office Professional Excel 2016, 2019, 32 or 64-bits installed on your computer, not in the Cloud.
Adequate CPU and RAM (see recommended specifications).
Recent version of Microsoft Windows.
---
CQG XL Toolkit for Excel  
(32- and 64-Bit)
The CQG XL Toolkit pulls today's market and orders and positions data via the Internet into Excel. Historical data is not available. CQG products do not need to be running. This toolkit does require you to have an account with a CQG FCM partner as this is an FCM enablement. The toolkit accesses market and orders and positions information using the exchanges you are enabled to trade by your FCM.

Features
Excel function-like syntax
Cell references that are part of the formula
Far more orders and positions data compared to RTD Toolkit is available, including fill prices
Today's market (label) data
Depth-of-market data
Account data
Account summary
Orders data including fill prices
Open positions data
Create and execute Batch Orders
The market and orders and positions data is limited to 200 symbols.
---
CQG RTD Toolkit for Excel   
(32- and 64-Bit)
CQG supports the RealTimeData (RTD) function for delivering market data and other information to Excel. Through the combination of CQG and Excel, you can create highly customized applications designed for your specific needs.
The CQG RTD Toolkit uses Microsoft's RTD Worksheet function to pull real-time market data and other information from CQG Integrated Client and CQG QTrader.

RTD is extremely efficient and offers many advantages over Dynamic Data Exchange (DDE). With RTD, you can drive calculation formulas based on cells that reference real-time data. You can also request market data, historical data, and current working orders and positions data, including synthetic spreads.
Features
Excel function-like syntax
Cell references that are part of the formula
Twenty thousand unique topics, which can be updated three times per second and one topic can be updated 200 times per second
Twenty thousand cells for market data, 5,000 cells for historical and study data, and 500 combinations of order-related data that are supported by CQG
These limitations relate only to RTD technology, not IC or QTrader data limitations; historical data via RTD is limited to 300 daily/weekly/monthly bars and 3,000 bars of intraday data.
Microsoft Excel is a registered trademark of Microsoft Corporation in the United States and/or other countries.